Don't just work here
Be. your best self.
At Be. we believe you should come to work everyday excited by how much you can change the world through the work you do. That's what we're doing, and we absolutely love it. We're on a journey to create the world's most inventive experiences that leverage the power of blockchain technology. Building the next evolution of digitally connected experiences both online and in real life (IRL). We're setting new standards in consulting, strategy, design and development, creating never before seen products and services that are pushing the boundaries of what's possible. If the thought of doing the same sets your pulse racing, come and join us on our journey.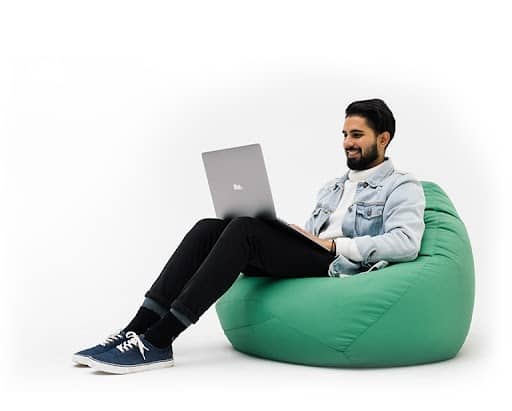 We believe in the potential of communities to create shared value and belonging. We design and build seamless, connected experiences that provide a platform for passion.
We're building the future
Our mission is to build experiences that create long-term loyalty and engagement and ensures equitable value for everyone through a leading fan engagement experience network in Web3.
Our network is pretty cool
With an unmatched network, we're creating the future of exceptional customer and partner relationships, whilst bringing to life amazing experiences.
Our values make us
Our purpose goes beyond just developing innovative blockchain solutions. As a values-driven organisation, we strive to make a positive impact on the businesses we serve, the people who join our team, and the communities in which we operate.
Web3 presents a new way to nurture community and empower users with data portability and interoperability. We support our approach to building smart contracts with technical acumen and a specialist developer team who understand the true nature of performance in this area.
Current Positions
Development

Blockchain Developer

APAC

APAC

Find out more
undefined

A rare chance to be a pioneer of the future of Web3.

Be by Animoca Brands is a cutting-edge company that is committed to harnessing the potential of blockchain technology to create shared value and foster a sense of belonging. As a member of our team, you will have the opportunity to play a key role in designing and building seamless and connected experiences.

We are seeking talented and motivated Blockchain Developers to join our team. The ideal candidate will have a strong technical background and a passion for blockchain technology. You will play a key role in the design, development, and deployment of decentralised applications and blockchain-based solutions in a quickly evolving space.

Does this sound like you?

Design and develop new blockchain-based solutions for entire ecosystems for consumer applications
Create smart contracts and deploy them on the blockchain
Plan for scalability, security and compliance across the blockchain network
Collaborate with developers, project managers and stakeholders to design appropriate solutions
Participate in code reviews and testing to ensure quality and security of the codebase
Apply cutting edge technologies to daily work
Write clean, reusable, and efficient code in multiple programming languages

Do you have the expertise?

Bachelor's degree in Computer Science, Software Engineering or related field
Experience in developing blockchain-based solutions using technologies such as Ethereum, Polygon and Flow
Strong knowledge of blockchain architecture and consensus algorithms
Experience in developing smart contracts using Solidity or other blockchain-specific programming languages
Understanding of cryptography and security principles
Focused on delivering great quality solutions that will benefit consumers who will benefit from this ecosystem
Willingness to learn and adapt to new technologies and methodologies in the blockchain space

Contact us if you are a driven and talented Blockchain Developer looking to make a real impact in a fast-paced and dynamic environment. Be. offers competitive compensation packages, opportunities for growth and advancement, and a supportive culture of collaboration and creativity.
Strategy

Web3 Strategist

APAC

Australia

Find out more
Join a team that is creating innovative fan engagement experiences.

Be. by Animoca Brands is a full chain experience company, at the forefront of innovation, with a mission to create leading fan engagement experiences.

We are looking for a talented and experienced strategist to help shape our offering. The ideal candidate will have a background in Web3 technology and the industry. As a strategist, you will build compelling stories and delivery models across multiple audiences. You can workshop with brands, present your thinking and bring a strong personality to the team.

Does this sound like you?

Conduct research on emerging technologies and trends in the Web3 space.
A good understanding of the entire ecosystem for consumer applications.
Develop strategic plans for brands leveraging Web3 technology.
Identify potential partnerships and collaboration opportunities with other projects.
Analyse data to make informed decisions about projects.
Collaborate with other team members to develop and execute strategic plans.
Assist in the development of project timelines and budgets.
Run and moderate workshops
Prepare and deliver strategic presentations and documents

Do you have the expertise?

A passion and strong understanding of the broader blockchain ecosystem.
The ability to envision the potential impact of Web3 technologies.
Understanding the economic aspects of decentralised systems, tokenomics, and the broader financial implications of Web3.
Strong analytical skills to evaluate projects, perform market research, analyse data, and assess the potential viability and success of Web3 initiatives.
Effective communication, both verbal and written, to convey complex Web3 concepts to various stakeholders.

Apply now if you have a passion for all things Web3 and a drive to produce results. Be. offers a creative, collaborative and flexible environment, competitive packages and opportunity to make an impact.
Consulting

Blockchain Consultant

APAC

Australia

Find out more
Be a part of the Animoca Brands Network to help define and build the Web3 future. 

We are Be. the full-chain experience by Animoca Brands and we're creating the future of digital property rights. With an unmatched network, we're building experiences that create long-term loyalty and engagement with a focus on ensuring equitable value for everyone.

As a Web3 Consultant, you will be responsible for driving revenue growth by identifying and consulting on opportunities related to Web3 technologies and solutions. You will collaborate closely with brands, leveraging your expertise in blockchain and Web3 innovations to deliver value and drive adoption. This is an exciting opportunity to contribute to the expansion of Web3 technologies and shape the future of decentralised systems.

Does this sound like you?

Identify and cultivate new business opportunities within the Web3 space, engaging with brands, understanding business needs, and providing tailored solutions
Articulate the value proposition of Web3 technologies and solutions, demonstrating how it can address specific business challenges and drive innovation
Collaborate with technical experts to customise solutions to meet requirements
Build and maintain strong relationships with key stakeholders, including executives, decision-makers, and influencers
Act as a trusted advisor, providing strategic guidance on Web3 solutions and fostering long-term partnerships

Do you have the expertise?

Strong understanding of the Web3 landscape and the ecosystem for consumer applications
Excellent interpersonal skills with the ability to build and maintain strong client relationships
Proven ability to collaborate with internal teams and external partners effectively
Highly self-motivated and results-oriented, with the ability to work independently and thrive in a fast-paced, entrepreneurial environment
Flexibility to adapt to changing market dynamics. Willingness to continuously learn and stay updated on the latest Web3 developments
Bachelor's degree in business, marketing, or a related field is preferred

Apply now if you have a passion for all things Web3 and a drive to produce results. Be. offers a creative, collaborative and flexible environment, competitive packages and opportunity to make an impact.